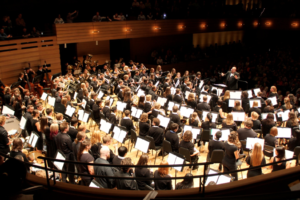 This year marks the 42nd anniversary of the Etobicoke Youth Band. Founded by Ken Hazlett in 1982, the band has expanded from 23 eager music students to well over 100 students every year. The members range in age between 12 and 18 and attend different middle and high schools in Toronto.
The EYB was formed to give music students the opportunity to play an enriched repertoire of music, from the classic band repertoire to marches to pop music. This dynamic group of young people has performed throughout the community and annually competes with distinction in a prominent music festival, receiving a first-place standing at the Kiwanis Music Festival in Toronto. EYB has also been a recipient of the Pepsi Band Award as Best Band at the festival.
The EYB performs many concerts in Toronto and over the years has toured extensively to Montreal, Ottawa, Boston, Philadelphia, Quebec City, Cleveland, Chicago, Washington, New Orleans's, Halifax, New York City, St. John's, Newfoundland and California (San Francisco and Los Angeles). Members have the opportunity to meet students from many different backgrounds while working towards a common goal. A great many long-lasting friendships are made during a young person's career in the Etobicoke Youth Band.
Les Dobbin is the Musical Director and Conductor, Michael Samotowka is the Musical Director and Conductor and John Kim is a Conductor.