Troy Sexton: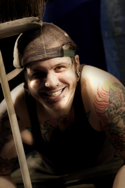 From Toronto, Troy is a high energy dancer, drummer, beat-boxer, Stomper, teacher, motivational speaker and performer. Troy has performed with the international percussion sensation STOMP all over the world for the past 8 years. Inspired by a performance of STOMP during an EYB band trip to NYC in 1999, Troy was determined to join the cast. At age 19 Troy became the youngest cast member and only Canadian to ever perform with STOMP. He has played the lead cast member in the show. TV credits include, Dancing with the Stars (Poland), SO You Think You Can Dance (Australia), Much On Demand (Canada), We Day 2010 (Canada) to name a few. Troy has also danced and drummed in many music videos for artists such as "Rich Kidd" and "The Used". Troy now is back and forth from overseas "Stompin" and living in Toronto where he runs his own company, "Rhythm Works" performing at schools, teaching and motivational speaking all over Ontario. Troy loves to share his passion for dance and performance and inspire people to listen to their gut and follow what they love.
Jon Fedorson: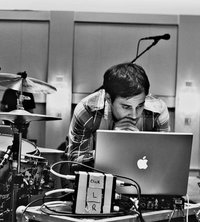 Jon Fedorson An accomplished freelance drummer and inspiring drum instructor, Jon currently plays with Crash Parallel (Sony Canada/Blackbox Records), and just finished the debut album for FIRExFIRE. His work has led him to tour alongside Collective Soul, the Goo Goo Dolls, David Usher, Our Lady Peace, Ndid Onukwulu, as well as serving as a sideman for famous Chinese pop artists he's never heard of at Casino Rama and Casino Niagara. When he is not making custom drums in his spare time for his upstart company Kit Dynamo, Jon also conducts master classes for EYB percussion and dedicates much of his summer to teaching young musicians at Toronto Summer Music Camp.
Sam Sutherland:
Since participating in the Etobicoke Youth Band from 1999 to 2003, Sam Sutherland has eaten many Doritos Cool Ranch chips, and done some stuff. While attending Ryerson University's Radio and Television Arts program, he wrote and starred in the award-winning Fringe show Giant Killer Shark: The Musical, singing and dancing his heart out to sell out crowds in Toronto, Winnipeg and New York City. His way tougher punk band, Junior Battles, has toured across North America and led to two teenagers once recognizing him on the Spadina streetcar, impressing his girlfriend. He has acted as the Music Editor of Broken Pencil and the Assistant Editor of Exclaim! Magazine, and produced and hosted three different music-related TV shows for both Exclaim! and AUX, where he currently works as the Online Producer. His first book, Perfect Youth: The Birth of Canadian Punk, will be published this fall with ECW Press.
Jamie Woomert
Jamie Woomert is currently the Associate Director of Orchestras at Carmel High School in Carmel, Indiana (www.carmelorchestras.org).
Originally from Etobicoke and a Trumpet player with EYB, Jamie moved to Indiana to study at the University Jacobs School of Music, where he completed a Bachelor of Music in Viola Performance and a Master of Science in Music Education. Jamie was a founding member of the Fairview Violin Project, a pilot musical outreach program providing violin instruction to elementary school students. As well as conducting and coaching various southern Indiana youth wind and string ensembles, Jamie also taught music introduction and methods courses at Indiana University as an Associate Instructor.
As a violist, Jamie has performed as a member of the Owensboro Symphony Orchestra since 2008, toured with the National Youth Orchestra of Canada, and was selected to participate in three summer seasons with the National Academy Orchestra.