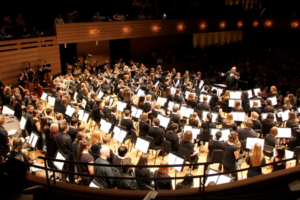 The Etobicoke Youth Band will celebrate its 35th year with a legacy concert at the George Weston Recital Hall on April 29th, 2017 at 7:30pm. EYB 35 My Generation, will include selections by the current and Alumni bands, and will feature solo performances by EYB graduates.
Founded in 1982 by Ken Hazlett, the band has progressed from 23 eager music students to over 100 members a year, ranging in ages from 12-18. Members attend several different high schools in the GTA area. The EYB was formed to give music students an opportunity to play an enriched repertoire, from classic band literature to marches and pop music. This dynamic group of young people has performed throughout the community and in music festivals, where they have placed first and won many scholarships and awards such as the Pepsi Best Band award at the Toronto Kiwanis Music Festival!
The EYB continues to perform many concerts throughout the city. One memorable concert was held at Toronto's Koerner Hall in its inaugural season and featured the music by the outstanding American composer Robert W. Smith, with the great composer himself conducting the band! The EYB has toured extensively to the cities of St. John's (Newfoundland), Halifax, Montreal, Ottawa, New York, Boston, Philadelphia, Chicago, Cleveland, Washington, Los Angeles and San Francisco. Highlights have included a performance at the United Nations and Carnegie Hall in New York, the Atlantic Band Festival in Halifax, a clinic with Ben Zander in Boston, and a performance and film score recording at Disneyland in Los Angeles. The band will tour New Orleans in 2017.
The Etobicoke Youth Band is a family. Members have the opportunity to meet young people from different backgrounds and who are united through music. Many long lasting friendships are cultivated during a young person's career in EYB!
Les Dobbin is the Musical Director and Conductor, and Michael Samotowka is the Conductor and Band Manager